The use of the microscope is an invaluable resource to Dr. Jin A. Cho, Dr. Sopanis D. Cho and Dr. Darlene K. Vaughan as they are performing your root canal. As a matter of fact, root canal specialists often use microscopes to find and treat all of the canals inside the tooth.
The root canal procedure takes place in a very small area of the tooth and requires expert precision to effectively navigate the roots and canals. Some teeth may have more roots and canals than expected — missed canals can mean unresolved infections, which may eventually require another endodontic procedure, or even removal of the tooth.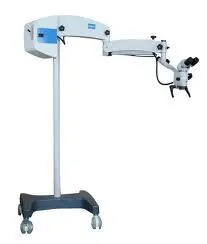 The use of advanced microscopy technology can help make your root canal treatment successful, allowing you to keep your natural tooth for a lifetime!

Our practice is focused on making your dental experience as comfortable as possible. At your next appointment, we'll be happy to answer any questions you may have.